To learn a language is just not easy. Especially when we are not forced to do so. In between our daily activities it seems to be hard to find the right time. Most of us need a place to learn. A place to concentrate. A place where we don't feel observed and critiqued. Most of us have the expectation of a fast learning curve and when we don't have early success we give up before we got used to the procedure of this every day learning.
The idea behind POW - Post Our World - is to create small bites of success while we are studying a language during our every day activities. POW routed out of the idea to support the language student besides proper in-person language classes. Supported by Augmented Reality (AR) POW is helping to put Post-Its as small vocabulary reminders everywhere to learn in a playful way.
Interactive Prototype
TOOLS Figma, Photoshop, Indesign
For design process please scroll down.
Post Our World is your digital post-it letter. Posted in your digital AR-world. For every note that you don't want to forget. Just tag it everywhere you want. Visible for just you and your friends.

Learn & Play.
But do it together!
Edit, Learn & Remind
You want to be reminded of something? You want to learn vocabularies with post-its? Just write it down and tag it everywhere.
Personalize Your Posts
By adding GIFs and PICs from our store you will be able to remember your posts even better.
Leave A Message To Your Friends
Wherever you are on our planet. Leave a message to your friend. It will stay in the exact same place.
Your Thoughts Are Free.
Write down everything you are thinking of. Put it next to your bed, but only you can see. Your phone. Your account. Your Privacy.
TOOLS App Store, Firefox, Speaking, Photoshop, Indesign

What might be the reason of their decisions?

REGARDING Design, Coding, Marketing, Sales
ANALYZE & UNDERSTAND - THEIR PROBLEM
TOOLS Indesign, Photoshop
There are many language apps in the stores but I chose 3 different ones that are all about learning a language but have a very different approach to do so.

During the whole process of development I always kept those 4 sentences in my mind that I listed above.
TOOLS Skype, Typeform, Realtime Board, Indesign, Photoshop
Hard Facts & First ROI Ideas
TOOLS Firefox, Indesign, Photoshop
By doing research to get some hard facts about language learning and e-learning it was possible to develop some thoughts and deliver numbers for who might be the user group.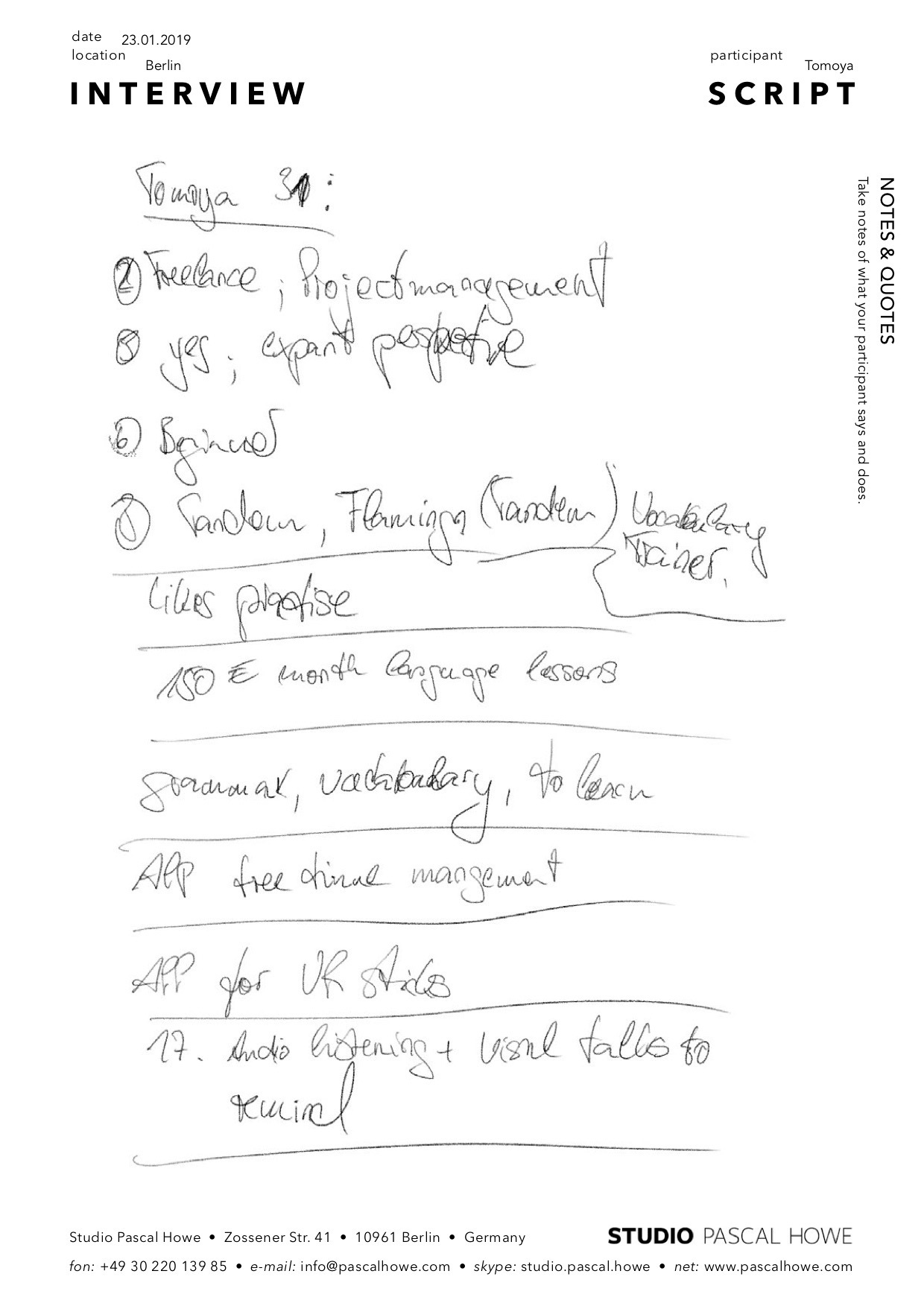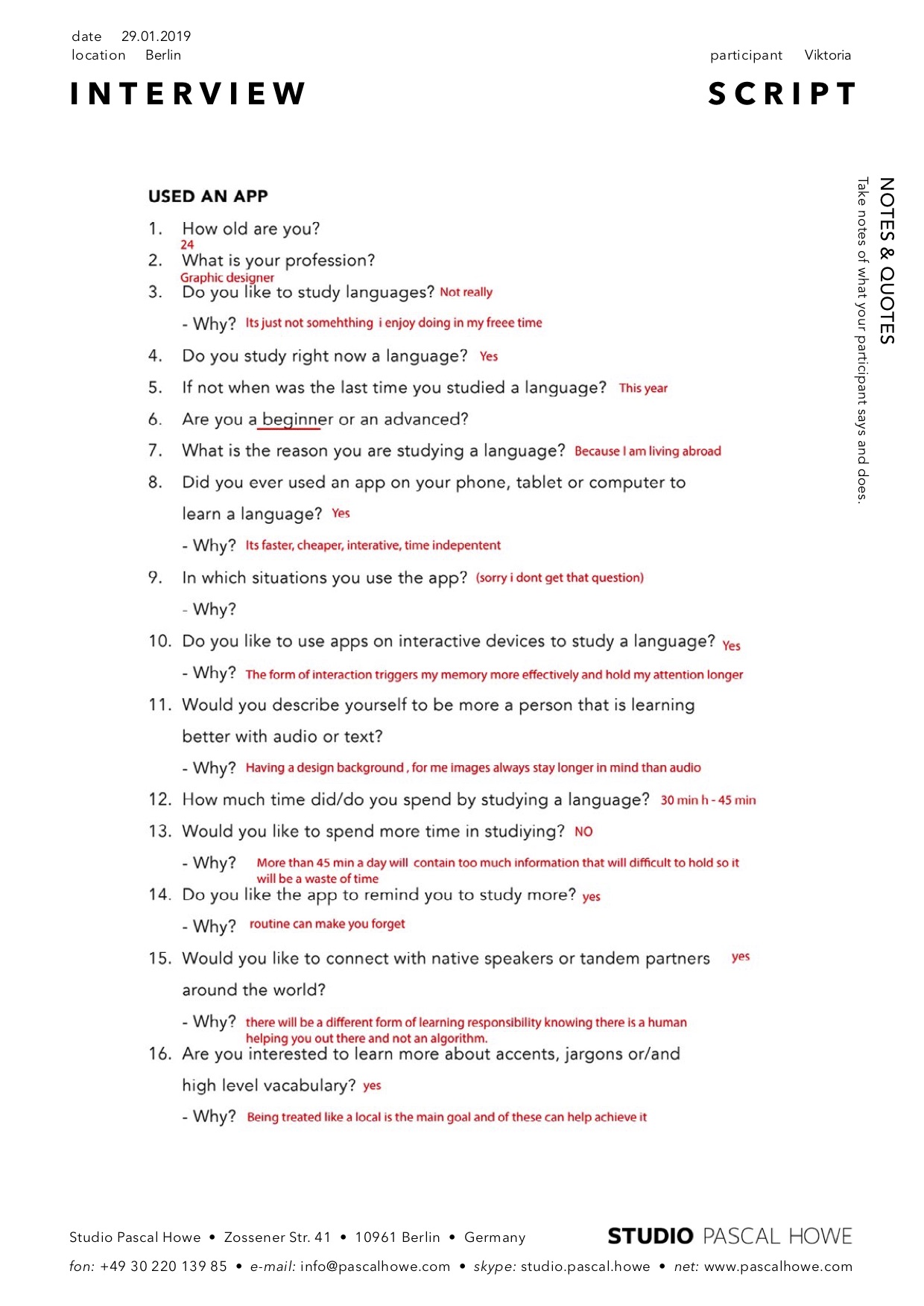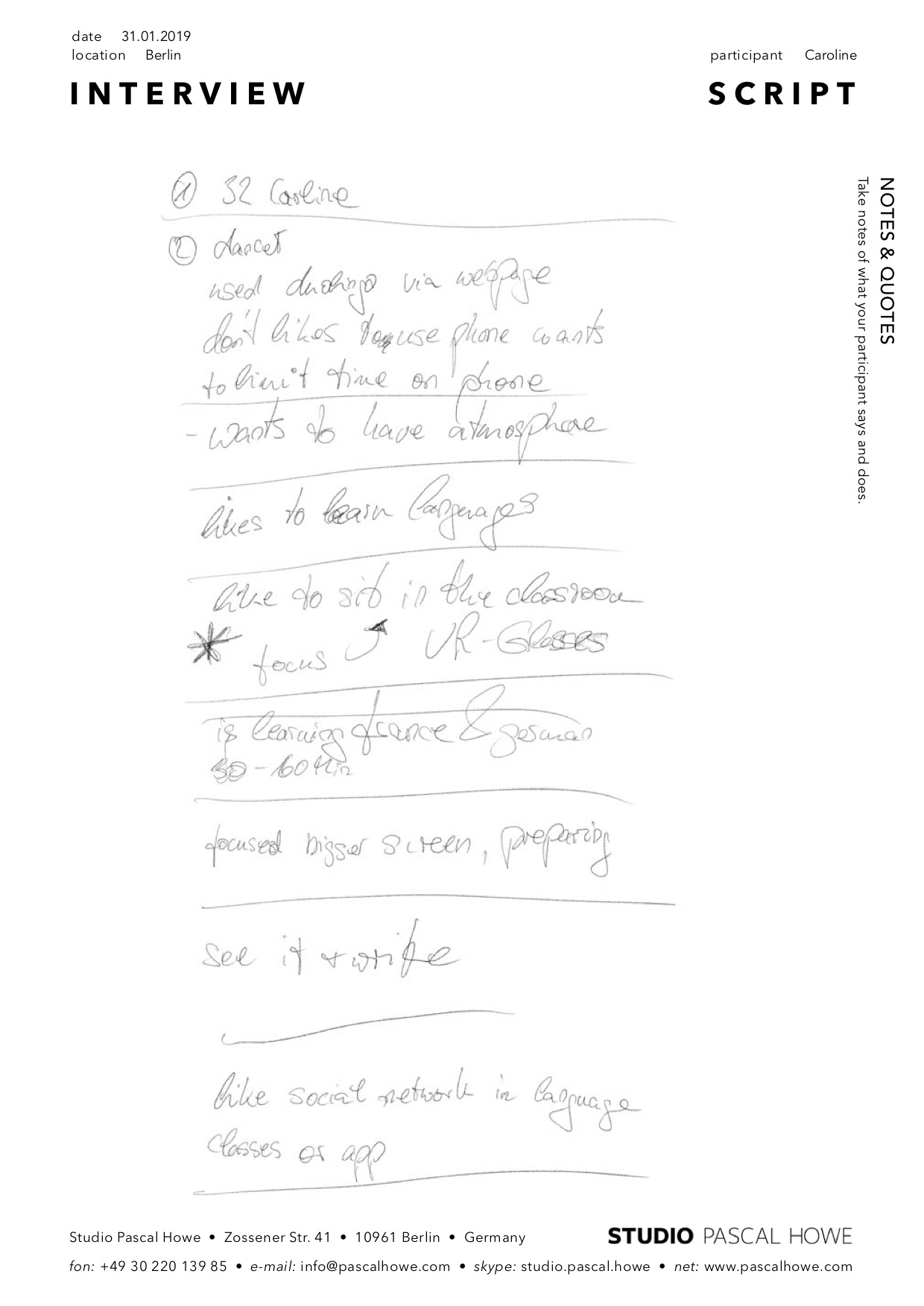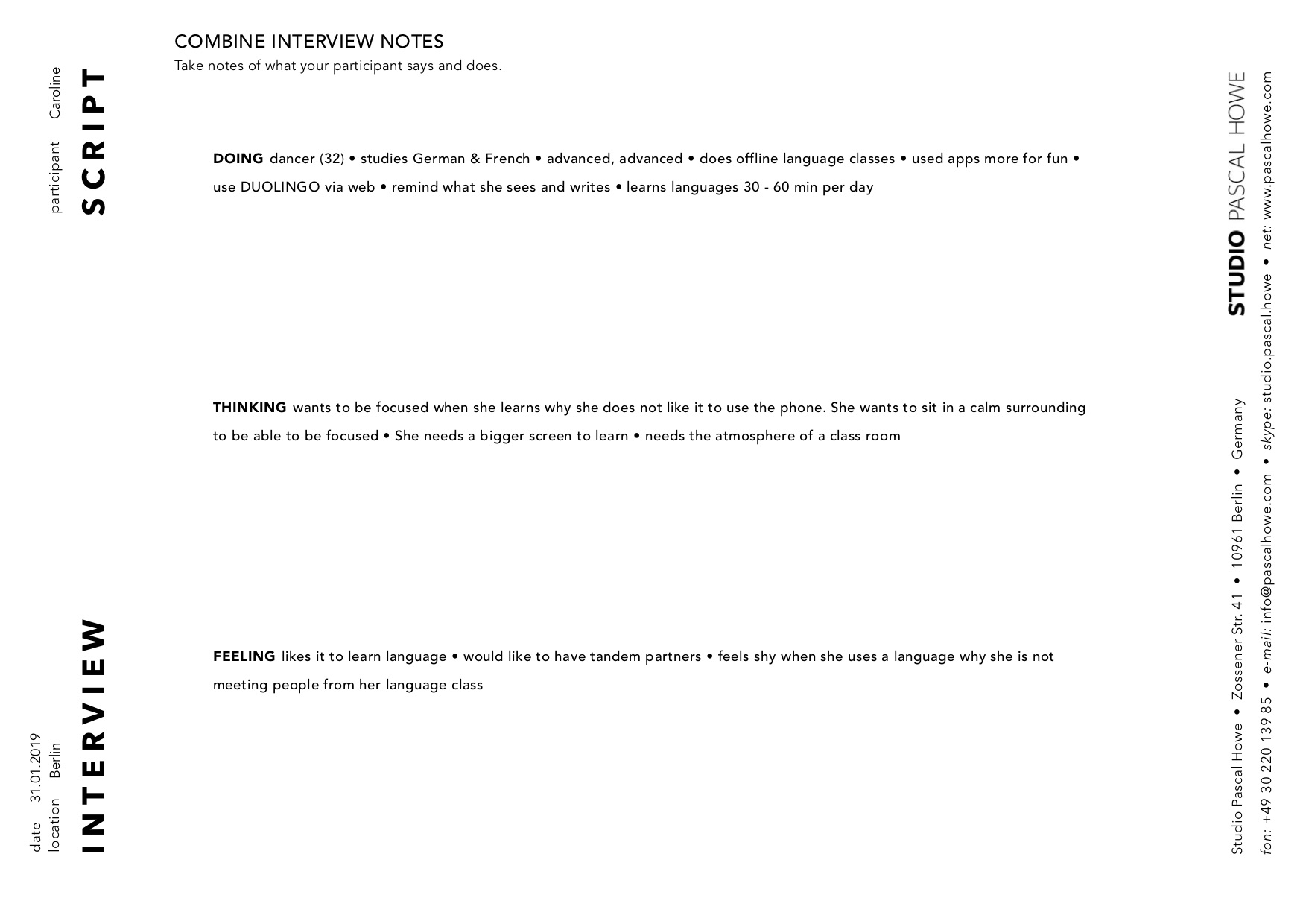 Interviews & Conclusion
TOOLS Firefox, Skype, Typeform, Realtime Board, Indesign, Photoshop
For the interviews I chose some expats from different countries to have a base for my conclusions. All interview partners learned German. One of them took in-person classes and two took online classes.
Based on the output of the "hard facts" and the interviews, I developed the first ideas of the prototype.
TOOLS App Store, Firefox, Speaking, Photoshop, Indesign
Proto Personas
TOOLS Photoshop, Illustrator
Based on the interviews and hard facts I set up "Thomas". A fictional user persona. Thomas lives the life that I or others need to have the user's understanding. What might be the behaviors and how these come to his needs and goals?
User Stories & Hypothesis
TOOLS Realtime Board, Photoshop, Indesign
For those mental models I used user flows. Taking account my interview partners different needs, behaviors and situations - I was able to create something specific for individual user demands. The app should be for everybody.
User Flows
TOOLS Realtime Board, Photoshop, Indesign
Before going to the low-fidelity prototype I made the first sketches of the user flow to make clear how to structure the screens and where might be a function.
Prototyping
Building the Prototype
Low to Mid Fidelity Prototype for Mobile
TOOLS Realtime Board, Photoshop, Indesign
Low to Mid-Fidelity
TOOLS Figma, Photoshop, Indesign
For me it is important that stakeholders can try an app or service than forcing them to make an account. It happens so often that an app wants me to create an account, before I'm even able to really get the app's function. As a result I just uninstall it.
At POW I offer the full service until the user wants to save something to the profile.
TOOLS Figma, Skype, Photoshop, Indesign
Usability Tests
TOOLS Figma, Skype, Indesign, Photoshop
After having a clickable prototype I could run through the whole method depending on the question that I would like to have answered.
I started with some moderated interviews. For sure interviews are very time-consuming but you get the most out of it as well.
Iterating & Define new goals
After I developed the mid-fidelity, the next step is to develop the high-fidelity prototype and define business needs and the ROI.
From now on the circle of developing and testing begins. In cross disciplinary teams using design sprints or lightning decision jams to make fast tests and iterations.